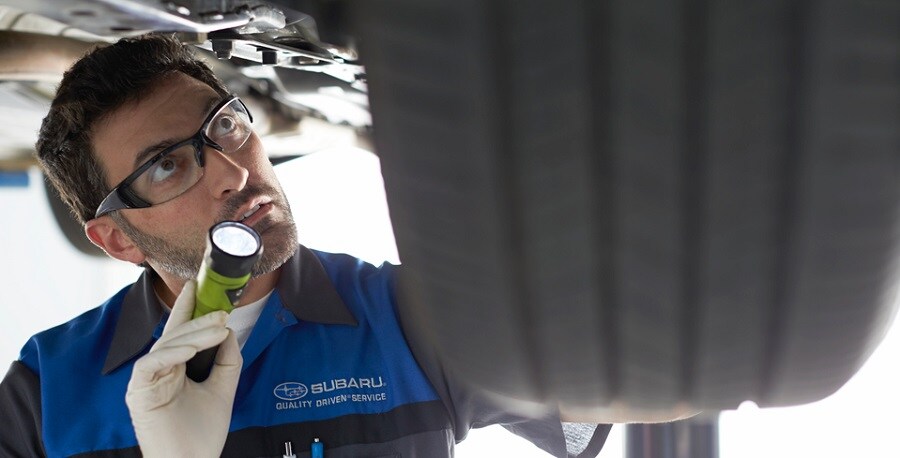 Become a Tire Expert in Pleasantville, NJ, and Give Your Subaru the Best
Did you know that having the right tires on your Subaru affects a lot more than just your ride quality? Getting the right size and style of tire, having the optimal balance and alignment, and maintain an optimal tire pressure can:
Improve handling and safety
Improve your fuel economy and lower emissions
Lower maintenance and service costs
Extend the life of your tires
And more
Tire service and tire change information is second-nature to us--but for the average driver, there might be a lot of confusion about how to choose and care for the tires that will be best for your car, truck, or SUV, and best for your lifestyle.
Types of Tires: Winter, Summer, All-Season, Sport, Off-Road, Performance, and More
Getting the right type of tire--and knowing when it's appropriate for that type of tire--is important to getting the best performance out of your Subaru, or out of any car, truck, or SUV. Take a look at the differences between some of the many types of tire, or contact us to learn which option is best for you.
Seasonal Tires
Summer tires typically have a simple tread pattern, and are ideal for wet and dry conditions in warm weather. Winter tires, also called snow tires have deeper tread depths and complex patterns. The rubber is designed to remain flexible even at sub-zero temperatures, unlike summer tires, and many styles of winter/snow tire can be equipped with studs. All-season tires split the difference between the two, and can perform well in a wider range of temperature.
However, in New Jersey, when temperatures are consistently hovering around or below 40 degrees, it's smart to consider winter tires even if you have all-seasons on.
Specialty Performance Tires
Specialty tires do fall under the same summer/all-season/winter categories as non-specialty tires, but they were designed for specific performance capabilities. Sport tires are typically low-profile, with shallower treads, and are better suited for summer weather. Off-road tires have extreme tread depth and patterns for maximum traction on dirt, gravel, mud, and more--this type is typically seen on trucks or on vehicles in rural areas.
Service Amenities
Not only do we provide expert Subaru care, we are proud to offer these added benefits that make us different than the rest:
24/7 online scheduling
Complimentary refreshments
Family Owned and Operated for Over 40 Years
Free shuttle service
Loaner cars available
Onsite body shop
Wi-Fi
Hours
Monday

8:00AM - 5:00PM

Tuesday

8:00AM - 5:00PM

Wednesday

8:00AM - 7:00PM

Thursday

8:00AM - 5:00PM

Friday

8:00AM - 5:00PM

Saturday

Closed

Sunday

Closed
Tire Info You Need to Know
While there aren't specifically "Subaru brand" tires, there are certain brands or styles that we recommend for different Subaru models and different climates. Knowing everything that you can about how the rubber meets the road will set you up for success. If you ever need an expert opinion, stop by our New Jersey Subaru service center during business hours. Our tire pros would be happy to help.
When to Change Your Tires
A brand-new tire typically rolls off the production line with a tread depth of about 10/32"-11/32". That might not seem like much, but it's plenty to help divert water or slush out and away from your tires and maintain a firm connection to the road. When that tread depth reaches about 2/32", the tire is considered unsafe and it's time to buy new ones. If your tires are 10 years old or older, but still have more than 2/32" tread, you should still swap them out for a new set.
When to Rotate Your Tires
The general rule of thumb is to get your tires rotated every time you come in to get your oil changed. By bundling your service appointments, you can save money and help extend the life of your tires by ensuring even wear across all four.
When Your Tires Need to Be Balanced
Do you need to balance your tires every time you rotate them? Is it necessary to balance tires? While imbalanced tires aren't as damaging or dangerous as misaligned tires or tires with severe uneven wear, that lack of balancing really affects the comfort of your ride. Getting your tires balanced when you schedule a rotation is simple--and you can take advantage of tire service specials to save some money on your visit.
Find Tires for Your Subaru in the Pleasantville Area
Do you want to know more about tire types, tire service, or choosing the best tires for a Subaru Outback, WRX, Forester, Impreza, or Crosstrek? Contact us online today.
Schedule Service